Communities Thrive @ Your Library
Public hearings
The County Council has two public Budget hearings scheduled:

Date: May 3, 2018 & May 9, 2018
Time: 7:00 PM
Location: County Council Chambers

Address:
212 S. Bond Street
Bel Air, MD 21014

Here's how you can help:


Beginning at 6:30, sign up to speak on behalf of the library. Share your story - tell how the library's services and resources have helped you, your family and your community. Ask your representatives to support the library's budget.


Not comfortable with public speaking? You can still help. Spread the word - tell your Friends members, library customers, family and neighbors to support the library at the hearing. It's helpful for the County Council to see a large group of citizens sitting together supporting the library, even if they don't all speak.


Not able to attend either hearing? Send an email to the County Council and explain why the library is important to you - council@harfordcountymd.gov
As always, we appreciate your continued help and support of Harford County Public Library.
How much value does the library provide you?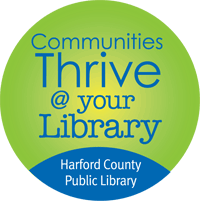 Tell your story about the Harford County Public Library! Leave a comment on Facebook, Twitter, or via e-mail. We want to hear what your library means to you.
Articles of Interest
FY 2017 Value of Select Library Services*
Quantity
Library Services
Retail Value
Value of Services
991,864
Adult Books Borrowed
$20.00
$19,837,280
904,946
Children's Books Borrowed
$20.00
$18,098,920
1,320,934
Digital Materials Borrowed
$20.00
$26,418,680
829,411
DVD's Borrowed
$4.00
$3,317,644
99,177
Music CDs Borrowed
$15.00
$1,487,655
94,144
Audiobooks on CD Borrowed
$35.00
$3,295,040
31,407
Playaways Borrowed
$65.00
$2,041,455
1,982
Little Leaper Kits Borrowed
$189.00
$374,598
3,904
LEAP Kits Borrowed
$110.00
$429,440
764
LSC Kits Borrowed
$150.00
$114,600
15,109
LSC Toys Borrowed
$25.00
$377,725
2,856
American Girl Dolls Borrowed
$147.00
$419,832
2,197
Superhero Kits Borrowed**
$50.00
$109,850
36,074
Magazines Borrowed
$3.76
$135,638
56,730
Interlibrary Loans
$25.00
$1,418,250
504
Meeting Room Use
$100.00
$50,400
84,347
Adult Program Attendees
$16.00
$1,349,552
180,057
Kid's/Teen Program Attendees
$15.78
$2,841,299
397,141
Hours of Computer Use
$12.60
$5,003,977
473,190
Customer Queries Answered
$7.00
$3,312,330
Total Value
$90,324,065
*The values above are based on the estimated retail value of the materials or services
Interactive Library Use Value Calculator
What is your library worth to you? How much would you pay out-of-pocket for your library services?
Enter the average number of times per month you or your family use each service.
Click "Calculate" to find the estimated retail value of your library use!
Note: The values used above are based on the estimated retail value of the materials or services, with research from the Maine and Massachusetts State Libraries and HCPL staff.
Maryland Library Association (MLA) Legislative Action Center
Share your story about the value of libraries
Some Harford County Public Library Facts (FY17)
Harford County Public Library offers customers an array of free resources including books, eBooks, audiobooks, DVDs, CDs, computer use, author presentations and programs for all ages
People searching for jobs are using the Library to complete job applications, fax resumes, submit applications online, create email accounts, and search health information
1,712,259 customers visited our branches by walking in, or using our convenient drive-through service
13,751,600 people made virtual visits to the library, used our website and our new library app
4,664,869 items were borrowed from the library
260,525 babies through adults attended library programs
473,190 questions were answered by Librarians
31,923 volunteer hours were donated to support the efforts of the Library