Communities Thrive @ Your Library
Public hearings
Virtual Town Hall Meeting - January 23, 2020
Harford County Executive Barry Glassman will host a virtual town hall in January for citizens to share their priorities for the next county budget. This annual virtual town hall provides multiple opportunities for public input on the budget at any time in the weeks leading up to and during the live event, where in-person testimony is also welcome. This year's virtual town hall will begin at 6 p.m. on Thursday, January 23, 2020 at the Chesapeake Theater on the campus of Harford Community College in Bel Air. The live event will be broadcast by Harford Cable Network, and it will stream live and be archived on the county website.

"Our award-winning virtual town hall format invites citizens to share their county budget priorities in whatever way is convenient for them, while letting them also hear what others have to say," County Executive Glassman said. "Our goal is an efficient and transparent process that makes it easy to get involved."

Starting now, citizens are invited to send in their county budget priorities for the fiscal year 2021 via dedicated social media pages, email, and U.S. Mail. Excerpts and summaries of this input will be read aloud by a moderator during the live meeting. The meeting will also include live testimony from attendees and relayed messages from callers to a dedicated phone line.

Comments may be provided through any of the following:

Email: iGovHarford@harfordcountymd.gov
Facebook: Harford County's Virtual Town Hall
Twitter: @iGovHarford
Mail: Harford County Executive Barry Glassman, 220 S. Main Street, Bel Air, MD 21014
Call in: 443-412-2700 (activated only during the live event)

Citizens may watch the live event from the county Web page www.harfordcountymd.gov/VirtualTownHall or at any branch of the Harford County Public Library.
How much value does the library provide you?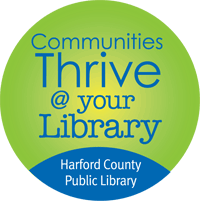 Tell your story about the Harford County Public Library! Leave a comment on Facebook, Twitter, or via e-mail. We want to hear what your library means to you.
Articles of Interest
FY 2018 Value of Select Library Services*
Quantity
Library Services
Retail Value
Value of Services
826,648
Adult Books Borrowed
$20.00
$16,532,960
815,803
Children's Books Borrowed
$20.00
$16,316,060
715,464
Digital Materials Borrowed
$20.00
$14,309,280
741,955
DVD's Borrowed
$4.00
$2,967,820
93,985
Music CDs Borrowed
$15.00
$1,409,775
96,582
Audiobooks on CD Borrowed
$35.00
$3,380,370
28,036
Playaways Borrowed
$65.00
$1,822,340
1,823
Little Leaper Kits Borrowed
$189.00
$344,547
4,381
LEAP Kits Borrowed
$110.00
$481,910
827
LSC Kits Borrowed
$150.00
$124,050
13,909
LSC Toys Borrowed
$25.00
$347,725
3,125
American Girl Dolls Borrowed
$147.00
$459,375
2,136
Superhero Kits Borrowed
$50.00
$106,800
30,522
Magazines Borrowed
$3.76
$114,762.72
79,646
Interlibrary Loans
$25.00
$1,991,150
497
Meeting Room Use
$100.00
$49,700
75,886
Adult Program Attendees
$16.00
$1,214,176
176,853
Kid's/Teen Program Attendees
$15.78
$2,790,740.34
59,091
Online Class Attendees
$144.00
$8,509,104
269,053
Hours of Computer Use
$12.60
$3,390,067.8
1,195,459
Database Searches
$6.83
$8,164,984.97
465,447
Customer Queries Answered
$7.00
$3,258,129
Total Value
$88,085,826.83
*The values above are based on the estimated retail value of the materials or services
Interactive Library Use Value Calculator
What is your library worth to you? How much would you pay out-of-pocket for your library services?
Enter the average number of times per month you or your family use each service.
Click "Calculate" to find the estimated retail value of your library use!
Note: The values used above are based on the estimated retail value of the materials or services, with research from the Maine and Massachusetts State Libraries and HCPL staff.
Maryland Library Association (MLA) Legislative Action Center
Share your story about the value of libraries
Some Harford County Public Library Facts (FY18)
Harford County Public Library offers customers an array of free resources including books, eBooks, audiobooks, DVDs, CDs, computer use, author presentations and programs for all ages
People searching for jobs are using the Library to complete job applications, fax resumes, submit applications online, create email accounts, and search health information
1,638,875 customers visited our branches by walking in, or using our convenient drive-through service
11,074,336 people made virtual visits to the library, used our website and our new library app
3,616,111 items were borrowed from the library
319,797 babies through adults attended library programs
465,447 questions were answered by Librarians
32,181 volunteer hours were donated to support the efforts of the Library