Volunteer Opportunities @ HCPL
COVID-19 Update – March 16, 2020
Harford County Public Library is closed until further notice in an effort to slow the spread of the virus and to encourage everyone to stay home. Volunteers are not to come in and we are not recruiting summer reading volunteers this summer. We do not know when we will be reopening or the return to regular library services. However, we anticipate several months of change and want to reassure our volunteers that we will be back to the new normal at some point. Our volunteers are an amazing and dedicated group that we appreciate on so many levels. As we move through the Pandemic crisis we will continue to provide updates.

Stay safe!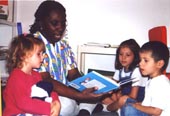 HCPL has a strong and vibrant volunteer program. A variety of volunteer opportunities are available throughout the library system.
Sharing the Gift
Encourage a child's enthusiasm for reading as you share stories, fingerplays and other library materials with young children. Volunteers participate in training and the library prepares materials for volunteers to share with children in a licensed preschool or daycare center. Here's what you need to know:
Volunteers must be 18 or older.
Volunteers work about a half day per month from October through May while daycare centers are open (Monday through Friday). You are able to choose the day that works best for your schedule.
Volunteers provide their own transportation to and from their assigned center.
This is a fun and rewarding volunteer opportunity. No prior experience needed.


Partners in Reading
Become a reading mentor for elementary aged reluctant readers. Trained volunteers visit local schools to work one-on-one or in small groups to foster a love of reading.


Volunteer a minimum of 1 hour a week from October through June
Volunteers must be 18 or older and have transportation to a designated elementary school
Volunteers must have an e-mail account that is checked on a regular basis
Criminal background check required
Summer Reading Volunteer Opportunities for Middle and High School Youth
Online applications are available in the spring for the upcoming summer reading volunteer opportunities. Volunteers assist other youth with registration, assist with events, and more.
Teen Advisory Group (TAG)
Teen Advisory Groups get together on a regular basis for games, activities, and more. Each library branch has its own TAG and the groups are open to middle and high school youth.
Branch Volunteer Opportunities
There are many activities available to our volunteers including assisting with shelving returned materials, sorting mail, copying, assisting with events, assisting with craft activities, and more. Ongoing opportunities for adults and teens ages 16 and older.
Innovation and Computer Volunteers
Ongoing opportunities for tech savvy individuals who are 16 and an older. Volunteers needed to assist customers with basic computer instruction at all our branches as well as helping in our Innovation Lab @ our Abingdon Branch. Volunteers must be comfortable with computers and technology and have good interpersonal skills.
Download application to turn in at your branch
Have questions? Stop by any library branch and ask about volunteering. We will be happy to provide you with information!