Health Insurance Marketplace information
MESSAGE FROM Maryland Health Connection and Seedco on Novel COVID-19 and Access to Coverage:
In an effort to prioritize health and safety and in response to Coronavirus, Maryland Health Connection opened an Emergency Special Enrollment Period for uninsured Marylanders. To enroll in a Qualified Health Plan and learn if you may be eligible for tax credits to reduce your monthly payment, contact a Navigator. Medicaid enrollment is year-round if you qualify.
You can enroll in a health plan now through Wednesday, July 15, 2020.
When will the special enrollment period begin?
The coronavirus emergency special enrollment period will begin in March and ends Wednesday, July 15. Here are the dates coverage will begin, depending on what day you enrolled in a health plan:
Enroll by April 15, 2020, coverage starts April 1, 2020
Enroll April 16-May 15, 2020, coverage starts May 1, 2020
Enroll May 16-June 15, 2020, coverage starts June 1, 2020
Enroll June 16-July 15, 2020, coverage starts July 1, 2020
Seedco's Navigators are working remotely and available to provide assistance over the telephone. Call the Seedco Hot Line at 866-492-6057, Monday through Friday, 9:00 am-4:00 pm to speak with a Navigator, or

Visit MarylandHealthConnection.gov or download the free "Enroll MHC" mobile app. When enrolling, consumers should request or select "Coronavirus Emergency Special Enrollment Period."

The online application is available daily from 6 a.m. to 11 p.m.

Free consumer assistance is available by calling 855-642-8572 weekdays from 8 a.m. to 6 p.m. Deaf and hard of hearing may use Relay.

While free, in-person assistance is still available in some areas of the state, we strongly encourage you to apply using the website, mobile app or by phone.

Is Coronavirus testing covered under a Maryland Health Connection plan or Medicaid?

Yes. Health insurance companies are required to waive cost-sharing, including lab fees, co-payments, coinsurance, and deductibles for any visit to test for coronavirus at a doctor's office, urgent care center, or emergency room.

Can I qualify for the Coronavirus Emergency Special Enrollment Period even if I'm not sick?

Yes. All eligible, uninsured Marylanders may qualify for this emergency special enrollment period.

What do I need to apply?

Have these items ready when you apply.

We encourage all residents to closely follow the Centers for Disease Control and Prevention (CDC) and the Maryland Department of Health (MDH) for all health-related coronavirus questions.
"If your income has been reduced or you have lost your job, you may be eligible for financial help with your private health plan or you may qualify for Medicaid. If you've lost your job, you have 60 days to enroll." Please call (866) 492-6057 to be directed to a certified Navigator in Harford County.
What has changed this year?
With health care in the headlines, here are the latest developments and what they mean for you and your coverage. For now, here's what you need to know:

Open enrollment for 2020 health and dental plans has ended. If you are eligible for Medicaid or Maryland Children's Health Program (MCHP), you can enroll any time. Beginning Jan. 1, 2020, pregnant women will be eligible for a special enrollment period.

Click here for more information https://www.marylandhealthconnection.gov/get-answers/what-has-changed-this-year/
If you have missed open enrollment, here is an exciting new opportunity to get free or low cost health insurance in 2020 without needing a life qualifying event: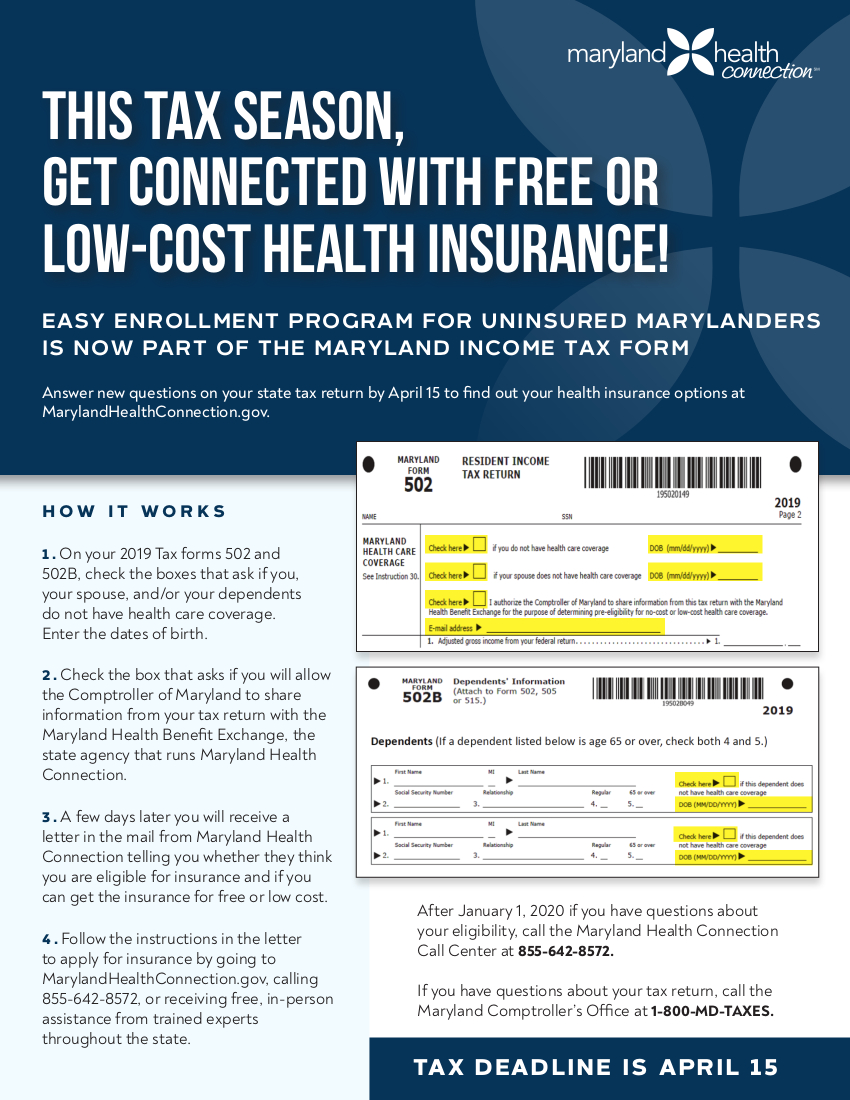 Maryland Health Connection's consumer assistance organizations have staff in every county to provide free, in-person assistance to help you determine if you qualify to get lower costs for a private health plan, or if you qualify for free health coverage through Medicaid.

Seedco is an official partner of Maryland Health Connection and provides free, confidential in-person assistance to enroll in qualified health plans, dental plans, Medicaid, or the Maryland Children's Health Insurance Program (MCHP). Our staff of certified Navigators has the expertise to guide consumers through the marketplace, determine eligibility for financial help and cost savings on their health plans, and enroll them in coverage.

Our program has served the Upper Eastern Shore since 2013 and the Southern Region since 2017. Seedco also serves as a regional hub on behalf of Maryland Health Benefit Exchange, providing technical assistance and supporting community partners. Our services are integrated with our partners at local health and social services departments and other community organizations. Seedco also provides wide outreach and information sharing to eliminate barriers to healthcare among the uninsured.
Please call (866) 492-6057 to be directed to a certified Navigator in our county