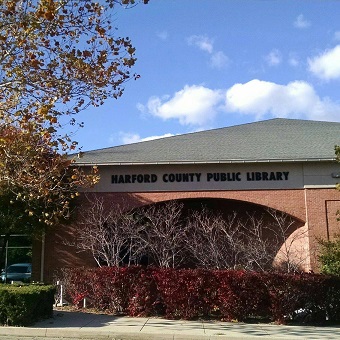 Address & Contact
100 E. Pennsylvania Ave
Bel Air, MD 21014
Phone: 410-638-3151
Fax: 410-638-3155
Drive-Thru: 410-638-4800
TDD: 410-838-3371 (Hearing Impaired)
Drive Up Window: 410-638-4800
Get Directions
Passport Acceptance Facility
Branch Hours
Mon - Thu 10:00 am - 8:00 pm
Fri & Sat 10:00 am - 5:00 pm
Sun(Oct-Apr) 1:00 pm - 5:00 pm
Drive-Thru Hours
Mon – Thu 8:00 am - 7:45 pm
Fri 8:00 am - 4:30 pm
Sat 9:00 am - 4:30 pm
Sun(Oct-Apr) 1:00 pm - 4:30 pm

Branch Manager
Annie Kovach
Juvenile Asst Branch Manager
Carly Reighard
Circulation Manager
Raquel Warbington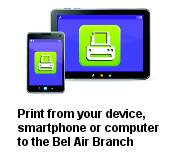 Available at the Branch
A selection of Adult and Children's books in Spanish
Teen Area
Technology
Self Check-outs
Public Access computers
Printing
Scanner
Microsoft Windows 10 computers with Microsoft Office Suite 2016
Microsoft Moviemaker
Copier
Fax
Microfilm/Microfiche Reader
Self-Service Payment Kiosks
Regular library groups
Kids
Lapsit Story Time Mondays @ 10:15am
Movin' & Groovin' Story Time Fridays @ 10:15am
Explorers Story Time Tuesdays @ 10:15 am
Family & Friends Story Time Wednesdays & Saturdays @ 10:15am
Wiggles Story Time Thursdays @ 10:15am
Teens
TAG - Teen Advisory Group (1st Wed)
Adults
Books at the Center – McFaul Senior Center (1st Mon)
Books on Tap – Sean Bolan's (1st Tues)
Just the Facts: A Non-Fiction Book Club (4th Mon)
Books and Beyond (2nd Wed)
Fiction Book Club (3rd Thurs)
Mysterious Minds Book Group (1st Wed)

Special Services provided by the Branch
Sharing the Gift - Volunteer storytellers visit day care centers to provide story times in all areas of the county. Monthly themes are decided and items packed in bundles to be picked up at all branches by volunteers.
Opening the Gift - Begun as a grant, a librarian provides story times to independent home day care providers on a monthly basis.
Drive-Thru Service - available all the hours the branch is open
The Maryland Room – Located on the second floor of the building, houses the Maryland Collection and the Oral History Collection.
Silver Reader - travels to assisted living facilities, long term care facilities, adult medical day care, senior centers and senior apartment locations throughout Harford County. This service currently visits over twenty locations. The vehicle is equipped with a lift so customers unable to climb steps can board the vehicle. Once on board, customers will find books in large print and regular print, audiobooks on CD, magazines, educational and entertainment DVDs, music CDs and two computers with Internet access.
Harford County Public Library is now an affiliate library for FamilySearch. FamilySearch is the world's largest repository of free genealogical records and manages the Family History Library in Salt Lake City, Utah. Local residents may order genealogical records on microfilm from FamilySearch for a fee of $7.50 (postage). It will be delivered to the Bel Air Branch where customer can then use the microfilm readers to view the records.
Grant Collection - Located in the Maryland Room of the Bel Air Library, the Harford County Public Library Grant Collection consists of a comprehensive print collection and dedicated computers to access these comprehensive resources. The collection includes the following resources: The Foundation Directory Online, which profiles more than 100,000 U.S. grant makers; Foundation Grants to Individuals Online; and Philanthropy In/Sight. Directories and proposal writing books are also available as part of this collection
Harford Living Treasures Oral Histories - Over 209 oral histories have been collected from various Harford County Living Treasures as recordings and transcripts of the interviews. In some cases, video or photographs are also included. These can be checked out in the Bel Air Branch.
Provides library service to the Detention Center one day a week.
Early Literacy Center – The Children's Department and Early Literacy Center was renovated in 2016. The space is geared toward those from birth to middle school and features a NatureMaker Tree, a children's makerspace called StreamWorks, and a town theme with a Harford County heritage focus, including a train on the Ma and Pa railroad, a blacksmith, a grocery store, and a garden area for babies and a pond area for toddlers.
StreamWorks – StreamWorks is a makerspace for children geared toward elementary and middle school children. It features a 3D printer, coding computers, sewing machines, and an interactive projection system called BEAM by EyeClick, as well as a rotation of developmentally appropriate and STEM-based toys, games, projects, activities, and programs.