hoopla
Beginning on December 1, 2017, the library established a daily spending limit for hoopla. When the daily spending limit is met, and a customer tries to check something out, he will receive a message that states: "Your library's daily lending limit has been reached for the day, and will reset this evening. This is a library-administered limit, and differs from your monthly borrowing limit. Please continue to browse, add to favorites, and return after the reset time to borrow." Reset time is midnight Eastern Time. Customers may borrow 10 items per month, but may be blocked on specific days if the library's spending/lending limit has been met.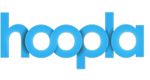 Hoopla offers thousands of movies, television shows, music albums and audiobooks from major Hollywood studios, record companies and publishers. Hoopla also offers eBooks and comics! Instantly stream or temporarily download up to 10 titles every month for free with your Harford County Public Library Card.
Download apps for mobile devices:
Content can be streamed on mobile devices or online. Titles can be downloaded for offline watching or listening.
The borrowing period for a movie or television episode is 3 days, a music album is 7 days, and an audiobook is 21 days.
Titles are automatically returned. They cannot be "renewed" or kept beyond the lending period, but they can be downloaded again. Hoopla will remember where you stopped.
Titles can be returned early.
Hoopla recommends for the best experience that you update your Hoopla App today!
Hoopla Tech Update

To upgrade your device visit, https://www.hoopladigital.com/.